Sensor Mounting Brackets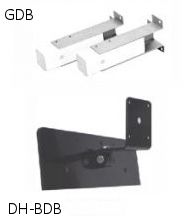 GDB Bracket
The GDB is an optional stand-off type bracket designed to allow our GD11S surface mount beams to clear garage door track hardware.
DH-BDB & DH-MP (not pictured)
The DH-BDB is an optional bracket used to swivel mount the DH400 sensor for unique door applications.
The DH-MP is an optional mounting plate that will adapt the DH400 sensor for mounting to a 1 3/4″ door header.
---
Additional Resources

Sensor Accessories Data Sheet

DH-BDB Manual - 102017