TC-CK1-SBE INTERSECTOR™ Microwave Motion and Presence Sensor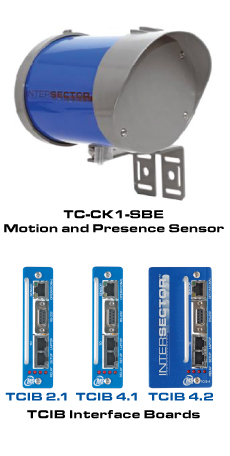 The TC-CK1-SBE INTERSECTOR™ is a microwave-based motion and presence sensor used for intersection control. The unit interfaces with a traffic-control cabinet, and outputs signals when vehicles are present in a user-defined zones. Zones are created using an X-Y coordinate system, and operation is verified and optimized using a laptop with a web browser as part of the installation process.
The TCIB INTERFACE BOARDS are special circuit boards designed to allow the INTERSECTOR™ Motion and Presence sensor to communicate with the control cabinet.
The TCIPI-4 INTERSECTOR Power Injector is a robust power supply designed specifically to power one to four TC-CK1-SBE INTERSECTOR sensors.
ADVANTAGES OF MICROWAVE DETECTION TOGETHER WITH PRESENCE-TRACKING CAPABILITIES
Detection not affected by weather
Immune to sunrise/sunset or post-rain glare
Not susceptible to in-road breakage
Advanced and stop bar detection in a single unit
Multiple lanes covered by a single unit
Easily installs to corner signal pole or signal mast arm
Successfully detects bicycles/motorcycles
Significant cost savings (when compared to camera mounting requirements or multiple loops)
No privacy concerns
ALLOWS USERS TO:
Visually track vehicles as they approach the intersection
Easily set up detection zones to provide programmable inputs to a control cabinet
Verify that the system is functioning correctly and troubleshoot